Get a Quote at Record Speed! All You Need is a Photo of Your Vehicle Registration.
Imagine, all you need for an insurance quote would be a picture of your vehicle registration and a few seconds of waiting time. This idea was born on a so-called «VIUday».

What are these days for? We intentionally take breakout sessions from which we draw inspirations, new perspectives and fresh ideas. A perfect place to experiment and learn in order to serve our customers not only with state-of-the-art solutions, but also with cutting-edge technology. So getting a speed offering was a challenge we passionately took on and today the idea has gone live.
We have been working for Zurich Insurance Switzerland for many years and always appreciated the open-minded culture where business and IT work hand in hand. Based on this background, we were confident that Zurich would be willing to give our intention to combine image recognition with the buying process a go. Being constantly on the lookout for customer-friendly services and convenient processes for their customers, the Digital Business Team bought into the idea immediately.
Excitingly enough, the internal Data and Analytics Team was working on a similar project already. Like us, they saw the huge potential that artificial intelligence (AI) offers for better user experience and lean internal processes. The team had already managed to produce accurate data by using Microsoft and Google technology and build an advanced algorithm to read the standardized Swiss vehicle registration document (Fahrzeugausweis). Even poorly exposed photos or skewed documents delivered reliable results and they were able to send high-quality data into the rating machine. We were honestly impressed by the job they had done so far and joined forces to finalize the innovative functionality.
Give it a go! Experience yourself the new way of buying car insurances.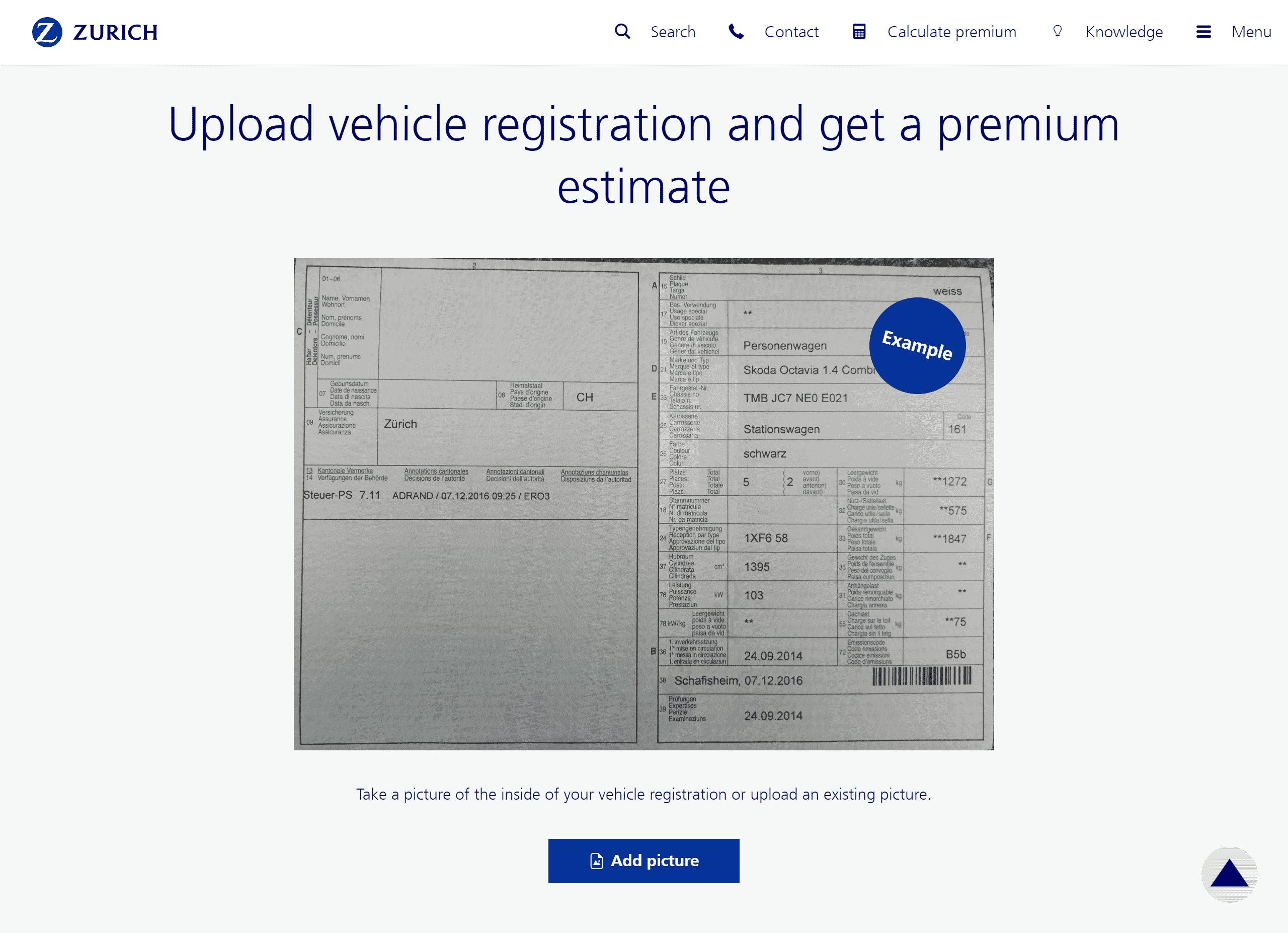 VIU AG
Rennweg 38
8001
Zürich
CH-Switzerland
+41 44 500 96 76